Welcome to your 6-day Basque It Up Course.
Oso pozik nago zu hemen zaudelako. (I'm really happy because you're here.)


My goal for Basque in Languages is to help Immigrants/ExPats, 
Basques or Language Lovers like you
 receive an authentic experience about the entire Basque Country. 


I want you to be excited and motivated to start this new journey. For me, it's not just
the language and conjugation tables
that I'll show you, but also my
culture, our customs and the different traditions of each historical province.


I'll share with you the way the locals pronounce certain words versus how you'll learn them when learning the unified Basque language (Batua). I'll also help you with the words we use in our everyday lives depending on the area you live in.  


This is the
first course in the Basque It Up Series.
You and I will be covering
Navarra (Nafarroa)
in this course.


Ready? Prest?


Click the LINK below👇🏽 if you're ready to join now.
Want to know more?
Let me show you what you get with the course?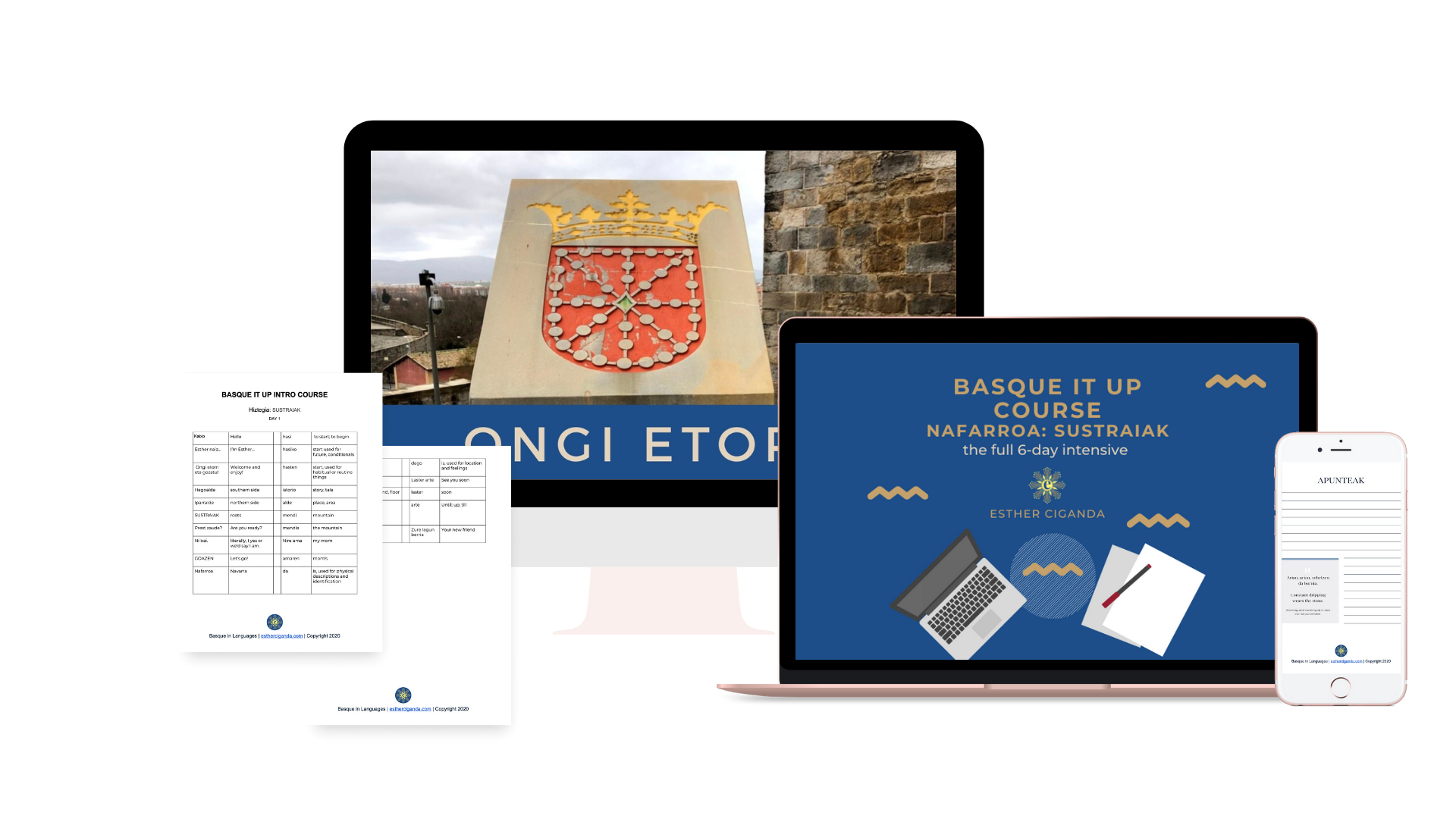 Basque It Up: Nafarroa, Sustraiak
Here is a quick peak at what's inside the course:
Vocabulary sheets
A place to take notes, which includes a Basque proverb.
Videos to help with pronunciation
Audio for on the go listening
You can print off the worksheets or use them on your favorite digital tool.
Access to all of this on the Teachable App.
Available in days

days after you enroll

👏🏽 Ongi Etorri Ikasleak! | Welcome Students!
Available in days

days after you enroll

Nafarroa | Navarra
You've seen what you get. So...
Ready to Basque It Up?
Grab your 6-day Intensive Course about Navarra (Nafarroa) today!